I recently received a very sweet comment along with a few questions, I thought the best way to answer these questions was to do my first Q&A post! Yay!
What salon do you go to for your hair?
My sister Bethany is a hair dresser and she does my hair! I know...I'm blessed to have a built in stylest! She's is very talented! She has a salon in her home, but because she is a busy Mom of 3 she only works about 2 days a week and unfortunately does not take new clients.
What are some hair tips/ makeup tips and tricks?
This could be a whole other post (I'll work on it!) but I thought I would at least do one tip for hair and one for makeup on this Q&A post. One hair tip I love that my sister constantly reminds me of is to get your hair trimmed even when you are trying to grow your hair out! It really helps to keep your hair looking healthy during the process of changing your style and also helps it grow! She recommends getting a trim every 6-8 weeks for longer hair and shorter hair more often! Ok for my makeup tip...don't get stuck in a rut try new things! One thing I try to do is on a "'grocery store day" I try something different with my makeup or try a new color. That way if I don't LOVE it its really no big deal its not your wedding day or your first date with a new guy. Don't be afraid to step out of the box ask some one you TRUST what they think of your new shade or the way you applied your eyeshadow. You'll never know unless you try, get out of your comfort zone, sometimes this means wearing less makeup! (yes a makeup artist who just said sometimes wear less makeup!) We have all seen those poor souls who are in desperate need of a make under! At least once in your life try a red lip stick, stain or gloss. I don't particularly love red lipstick on myself but a red gloss is an unexpected change from the norm every now and then!
Are there any brands you recommend?
I like a lot of brands even the drug store can offer some great mascaras! I like Mary Kay, Mac, Nars, Lancome mascara, Christian Dior mascara, Make Up For Ever Mat Velvet foundation. Mary Kay has a great price point the others are more pricey! I like several products from each of these brands!
What are some tips you have to get your makeup to "stay put"?
Moisturizing and using the right foundation for your skin type are the first step! There are also some good makeup primers out there! I like Mac's and Mary Kay just came out with a primer, I'm going to try soon! I'll give you a review once I've tried it! I wouldn't recommend using a primer every day but they work great for those days when you really need your make up to "stay put" ALL day long! I also don't recommend constantly reapplying powder by the end of the day it looks caked on. I have more oily skin so I use Clean and Clean Oil Absorbing Sheets to remove heavy shine instead of constantly using more power.
I really don't like a post without pictures! So I thought I would add some of my favorite celebrity makeup!
Reese rockin' the red lip! Perfection!
Color on the eye done right!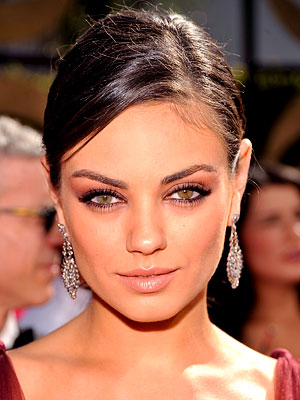 I hope these tips are helpful! Thank you for the great questions! I am always happy to answer questions, so ask away!